Admitted2YorkU
Congratulations
on your admission to
York University!
Begin your journey to York: Click through the Quick Links on the right to review your next steps.
We have created an FAQ page to answer the most common questions related to admissions for undergraduate applicants.
Visit the Future Students website to learn more about student life, transition supports, events and opportunities to connect with us.
If you still have questions about your admission to York after reading this information, please email us.
intlenq@yorku.ca
Accept Your Offer
Choose one option - I have applied through:
Ontario Universities' Application Centre (OUAC)
York University Online Application
Go to yorku.ca/myfile to enter your York student number (provided in your confirmation email when you applied to York) and your date of birth.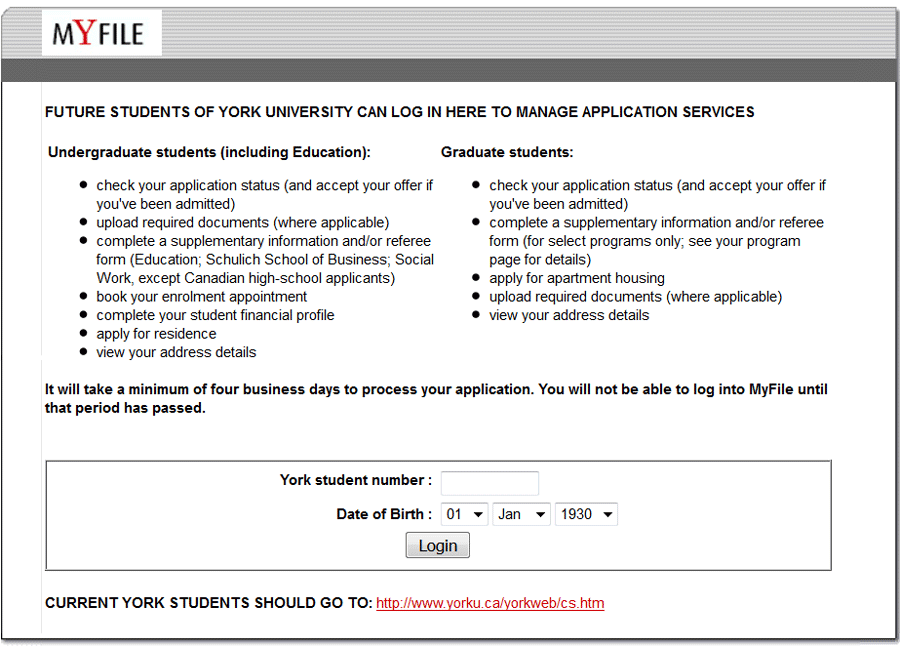 The Decision Letter and Acceptance/Visa Letter will not be mailed to you. It will be available for download in the "Admission Letters" tab of your MyFile account within five business days of your admission decision.
The Decision Letter contains the details and conditions of your admission to York University. Please remember to accept your offer in the "Application Status" tab on or before the response deadline stated in your Decision Letter.
The Acceptance/Visa Letter is addressed to "the Embassy of Canada or Immigration Officer". This is the letter you must use for your Study Permit application.
When applying for your Study Permit, you should only submit the Acceptance/Visa Letter. The Decision Letter is intended for your records and personal reference only. See section 4, "Getting Ready" for additional Study Permit details.
Note: No additional Decision Letter or Acceptance/Visa Letter will be issued, even after you clear the conditions of your admission. The documents in the Admission Letters tab should be considered the final versions.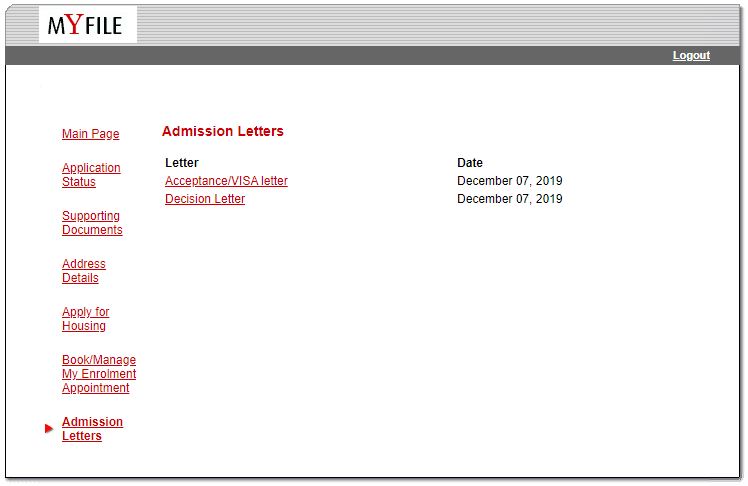 If you applied to York via the OUAC application, please go to the next step. If you applied to York via the York application (not OUAC), you can accept your offer in your MyFile account.
Click Application Status on the left menu bar. You will see a list of programs you have applied to at York.
The "Next Steps" column will display which programs you have been admitted to.
Click "Accept/Decline Offer" for the program you wish to accept.
Use the OUAC reference number to log in to your OUAC application at www.ouac.on.ca.
Once logged in, click Choices/Offers from the top menu bar. In the Admission Decision column of the program you wish to accept, click Offer or Alternate Offer. Received an alternate offer? Find out more (If you received an Alternate Offer, it may take up to five business days for it to appear in your OUAC account).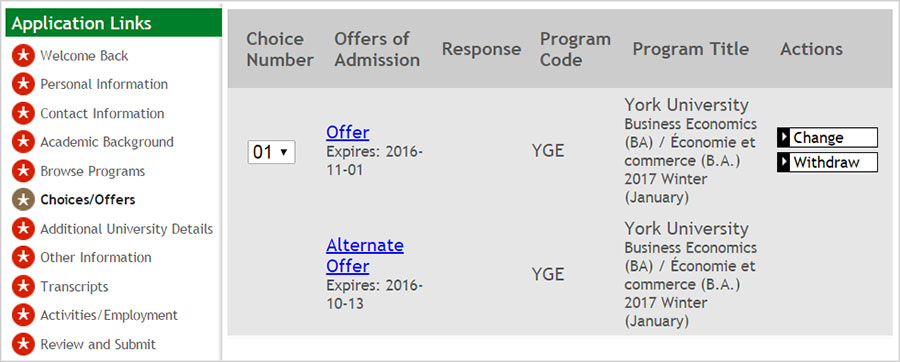 The following screen will display the details of the program to which you have been offered admission. Confirm that this is the correct program, select Accept from the Response options and click Save and Continue.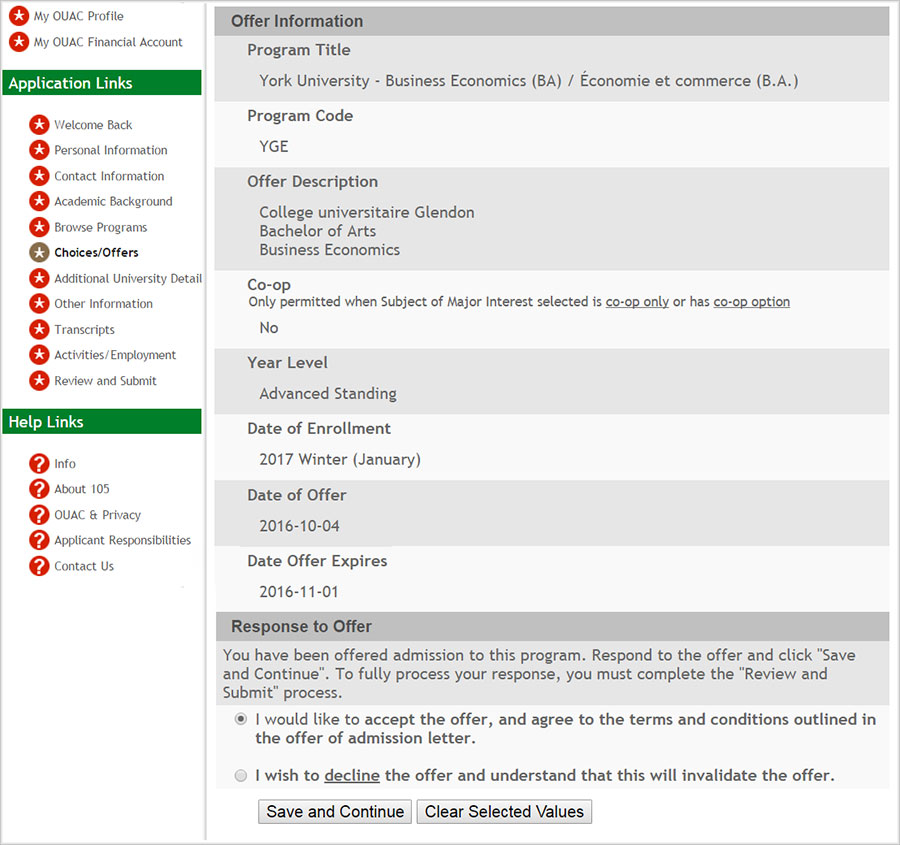 Once you have accepted an offer, you will need to return to the Choices/Offers screen which will now display your 'response' next to the offer of admission you have decided to accept. It will indicate 'Unsubmitted Response'.

To submit your response, you must first click the 'save ordered choice' button at the top or bottom of the screen.

Once you are ready to submit your response to OUAC, you will click 'Review and Submit' from the top menu bar. Review that everything is correct and then click the 'I Verify and Agree' button to accept your offer.

Congratulations! You have now successfully submitted your response and will receive a confirmation number on the following screen. Besides the confirmation number, this screen will include a summary of changes made to your application.

If you do not immediately receive a confirmation number, the submission process was most likely not completed properly. Go back and review each step. If you need assistance with the OUAC application, contact OUAC by email:

You can also contact OUAC by phone at

519-823-1063.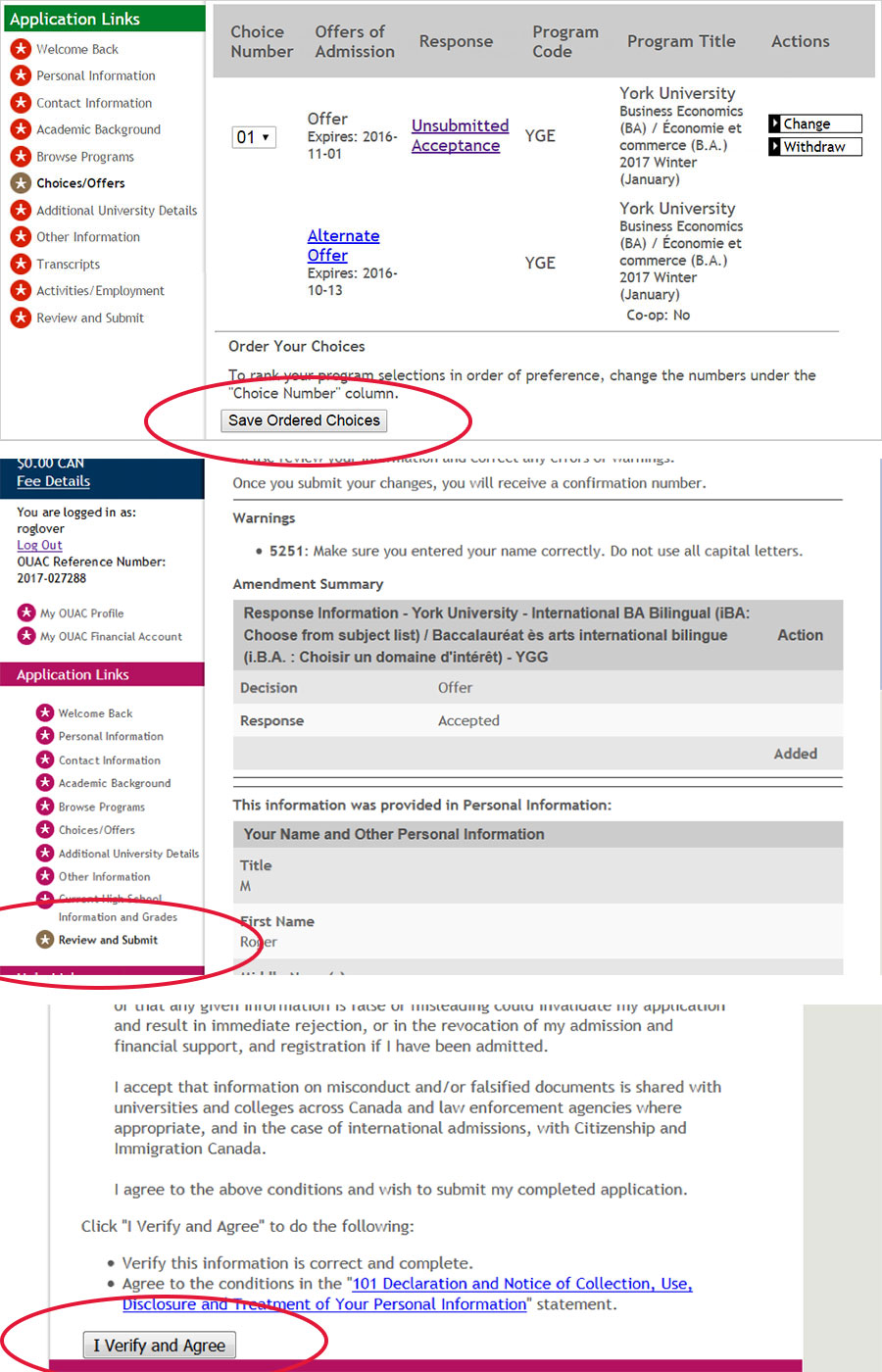 Check that we have received your information on MyFile. The acceptance of your offer on the OUAC site will take a few days to appear on MyFile. Use MyFile to check the status of your application, apply to residence and more.
Meet Your Conditions
Submit Final Official Grades
Review Your Grades and Document Requirements
York University will review the final grades upon receipt. The university reserves the right to rescind an offer of admission if the final grades are below the minimum admission requirements.
To understand your document submission requirement and the deadlines, please visit the following page.
My Admission Requirements: