Art History & Visual Culture
This program focuses on the Canadian heritage in the visual arts, including works of art made by Canadians as well as works that have been brought to Canada and remain here on a permanent basis.
We offer a range of courses, placement and visual resources.
Part-time students, especially those with experience in the discipline, are encouraged to apply. Where possible, students should be prepared to devote themselves to full-time study at least during their first year in the graduate program.
Choose to study a diverse range of subjects including art and architecture history, critical theory and writing, curatorial studies in visual culture, and gallery and museum practices.
We offer a one-year diploma in Curatorial Studies. Students may also earn a joint MA/MBA degree in the cultural policy field.
The doctoral program in Art History & Visual Culture at York offers an exceptional opportunity for research, teaching and professional development within a department that is unique in terms of its resources, location, faculty and areas of interest.
In the doctoral program, each of the fields is broadly conceived and students may incorporate research on non-Western topics, minority cultural practices and interdisciplinary issues and approaches. The four fields of study represent the significant areas of teaching and research strength of York's Art History faculty, and provide a frame within which students can pursue diverse theoretical and practical engagements in their study of art and visual culture.
The objective of the program is to prepare candidates for careers in art history and academia, as well as in publishing, curatorial practice, museology and arts administration.
You will have opportunities to view exhibitions in the vibrant downtown Toronto art community and attend events with international and nationally acclaimed artists, curators and theorists.
The program prepares its graduates for career choices in academia or the cultural sector by refining critical, scholarly and teaching skills.
The program is relatively small and allows graduate students to work closely with individual members of the faculty.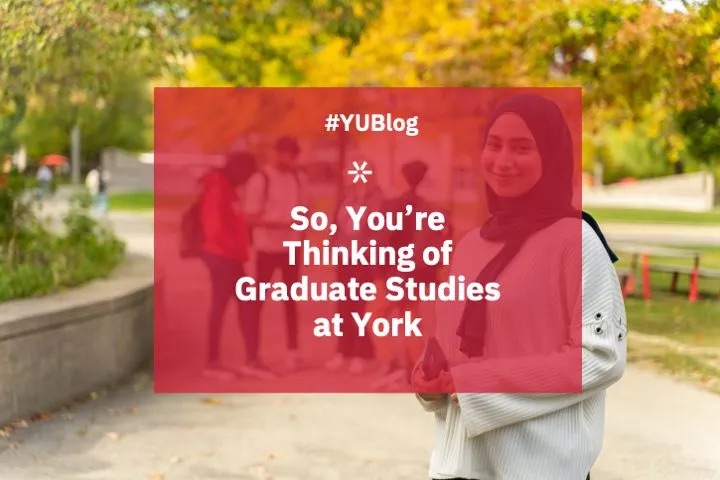 If you want to pursue graduate studies, it's time to start planning and getting all your ducks in a row!
Stream and Specializations
Canadian and Aboriginal Art
Curatorial and Museological Studies
Architectural Studies
Modern and Contemporary Art.
Degrees Offered
---
MA
---
Program Length (Full-time)
5 term(s)
---
Program Component(s)
Major research paper
OR Thesis
---
Fall Entry
Deadline - Fall (Domestic Applicants Only)
2024-01-15
Deadline - Fall (International Applicants Only)
2023-12-15
English Proficiency Requirement
| | |
| --- | --- |
| Minimum TOEFL (Paper-based) | 600 |
| Minimum TOEFL (Internet-based) | 100 |
| IELTS (Academic Module) | 7.5 |
| YUELI | Academic Program Level 9 with Distinction |
| YUELI Graduate Studies Preparation Program (GSPP) | Graduate with distinction |
| CAEL | Overall score of 70, no component score less than 60 |
| Minimum CPE Score | C |
| Minimum CAE Score | B |
| Duolingo | 140 |
| PTE Academic | 76 |
---
PhD
---
Program Component(s)
Comprehensive examination(s)
AND Dissertation
---
Fall Entry
Deadline - Fall (Domestic Applicants Only)
2024-01-15
Deadline - Fall (International Applicants Only)
2023-12-15
English Proficiency Requirement
| | |
| --- | --- |
| Minimum TOEFL (Paper-based) | 600 |
| Minimum TOEFL (Internet-based) | 100 |
| IELTS (Academic Module) | 7.5 |
| YUELI | Academic Program Level 9 with Distinction |
| YUELI Graduate Studies Preparation Program (GSPP) | Graduate with distinction |
| CAEL | Overall score of 70, no component score less than 60 |
| Minimum CPE Score | C |
| Minimum CAE Score | B |
| Duolingo | 140 |
| PTE Academic | 76 |
Additional Admission Requirements
Number of Recommendation(s)
Other Requirements
MA
Statement of interest
Sample of written work (max. 3,800 words)
PhD
Resumé or CV, highlighting relevant experiences and accomplishments (i.e. skills in curating, archaeology, conservation, art publishing or work during residencies or socially engaged art projects).
Statement of interest
Written work