Earth & Space Science
Earth & Space Science is a multidisciplinary research program associated with the Centre for Research in Earth & Space Science (CRESS).
The graduate program provides postgraduate instruction and research experience for graduate students working towards either MSc or PhD degrees. You will join a group of students from a wide range of backgrounds, including engineering, physics, chemistry, mathematics, and computer science. Opportunities for interdisciplinary research arise partly due to the program's proximity to the departments of Physics & Astronomy, Engineering, and part of the Chemistry department.
Research laboratories include world-leading facilities for space engineering and planetary exploration, remote sensing, high-precision positioning and navigation, geospatial information technology, atmospheric measurements, simulations and climate modelling.
You'll have the opportunity to join a number of atmospheric science research projects conducted in collaboration with Environment and Climate Change Canada and groups from other universities, while space science projects such as OSIRIS-REx, Phoenix, and SWIFT involve collaboration with local companies (MDA, Teledyne Optech, EMS technologies, etc.) as well as the Canadian Space Agency, ESA, NASA and JPL.
Conduct your research through the exploration of atmospheric modelling, chemistry, computer science, earth science geomatics, mathematics, physics and astronomy, remote sensing and space observations.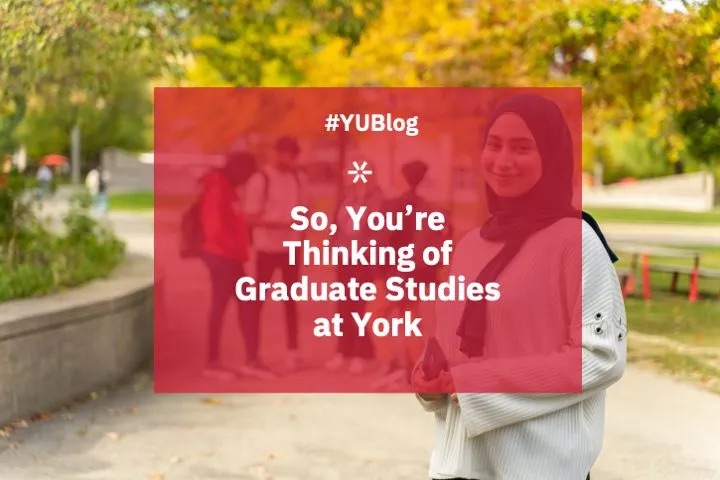 If you want to pursue graduate studies, it's time to start planning and getting all your ducks in a row!
Degrees Offered
---
MSc
---
Program Component(s)
Thesis
AND Oral examination
OR Course work only
---
Fall Entry
Deadline - Fall (All Applicants)
2024-03-15
---
Winter Entry
Deadline - Winter (All Applicants)
2023-07-15
---
Summer Entry
Deadline - Summer (All Applicants)
2023-11-15
English Proficiency Requirement
| | |
| --- | --- |
| Minimum TOEFL (Paper-based) | 550 |
| Minimum TOEFL (Internet-based) | 79-80 |
| IELTS (Academic Module) | 6.5 |
| YUELI | Academic Program Level 9 with Pass |
| YUELI Graduate Studies Preparation Program (GSPP) | Graduate with Pass |
| CAEL | Overall score of 60, no component score less than 60 |
| Minimum CPE Score | C1 |
| Minimum CAE Score | C |
| Duolingo | 120 |
| PTE Academic | 60 |
---
PhD
---
Program Component(s)
Dissertation
AND Oral examination
---
Fall Entry
Deadline - Fall (All Applicants)
2024-03-15
---
Winter Entry
Deadline - Winter (All Applicants)
2023-07-15
---
Summer Entry
Deadline - Summer (All Applicants)
2023-11-15
English Proficiency Requirement
| | |
| --- | --- |
| Minimum TOEFL (Paper-based) | 550 |
| Minimum TOEFL (Internet-based) | 79-80 |
| IELTS (Academic Module) | 6.5 |
| YUELI | Academic Program Level 9 with Pass |
| YUELI Graduate Studies Preparation Program (GSPP) | Graduate with Pass |
| CAEL | Overall score of 60, no component score less than 60 |
| Minimum CPE Score | C1 |
| Minimum CAE Score | C |
| Duolingo | 120 |
| PTE Academic | 60 |
Additional Admission Requirements
Required Forms
Supplementary Information Form (Accessed through MyFile;)
Number of Recommendation(s)
Other Requirements
MSC
Applicants to the PhD program must submit:

Statement of Interest
Resumé or CV
Referee List