History
The Graduate Program in History fosters intensive examination of historical questions using a variety of approaches. These include gender, transnational and comparative, economic, political, cultural and social history.
Long known for its strength in Canadian history, the program also has expertise in British, Caribbean, European, Latin American, U.S., and East Asian history, the history of Africa and the African diaspora and the history of the Greco-Roman world. Thematic fields include immigration, Indigenous and environmental history. The program offers courses and supervision in ancient, medieval, early modern and modern history. It also has strong links with many of York's organized research units, such as the Harriet Tubman Institute for Research on Africa and its Diasporas, the Robarts Centre for Canadian Studies, and the Centre for Research on Latin America and the Caribbean.
The faculty of York's Graduate Program in History are leading scholars who have won major prizes for their research and publications. View the complete listing of our faculty.
In the Graduate Program in History you will join a lively community of students and have the opportunity to participate in various student-led activities: The Historian's Craft, a series of talks by leading historians; the annual New Frontiers in History graduate history conference; the editorial committee of the journal Left History; as well as in regular social events organized by the Graduate History Student Association.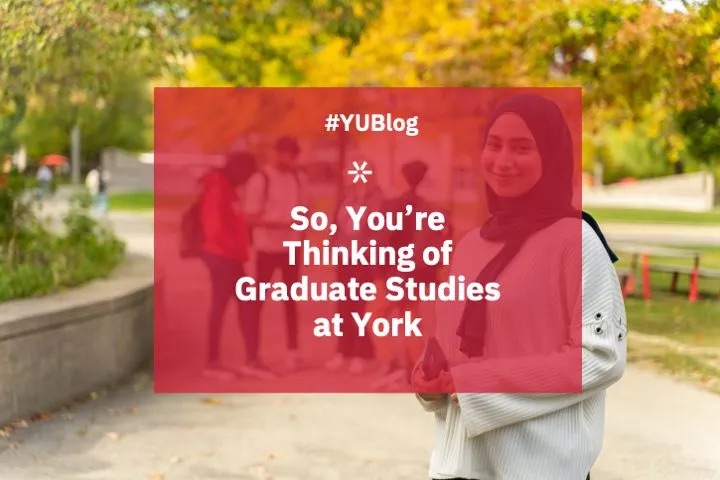 If you want to pursue graduate studies, it's time to start planning and getting all your ducks in a row!
Stream and Specializations
You'll have the opportunity to combine studies in different fields:
Geographic fields:

Africa, the Caribbean and Latin America
Ancient history
Britain
Canada
Europe
United States
Thematic fields:

Cultural
Migration/Ethnicity
Politics/Law and the state
Sciences, health and environments
Social and economic history
Women, gender and sexualities
Transnational, comparative and global history
Degrees Offered
---
MA
---
Program Length (Full-time)
3 term(s)
---
Program Component(s)
Major research paper
OR Thesis
---
Fall Entry
Deadline - Fall (All Applicants)
2023-12-15
English Proficiency Requirement
| | |
| --- | --- |
| Minimum TOEFL (Paper-based) | 600 |
| Minimum TOEFL (Internet-based) | 100 |
| IELTS (Academic Module) | 7.5 |
| YUELI | Academic Program Level 9 with Distinction |
| YUELI Graduate Studies Preparation Program (GSPP) | Graduate with distinction |
| CAEL | Overall score of 70, no component score less than 60 |
| Minimum CPE Score | C |
| Minimum CAE Score | B |
| Duolingo | 140 |
| PTE Academic | 76 |
---
PhD
---
Program Component(s)
Comprehensive examination(s)
AND Dissertation
---
Fall Entry
Deadline - Fall (All Applicants)
2023-12-15
English Proficiency Requirement
| | |
| --- | --- |
| Minimum TOEFL (Paper-based) | 600 |
| Minimum TOEFL (Internet-based) | 100 |
| IELTS (Academic Module) | 7.5 |
| YUELI | Academic Program Level 9 with Distinction |
| YUELI Graduate Studies Preparation Program (GSPP) | Graduate with distinction |
| CAEL | Overall score of 70, no component score less than 60 |
| Minimum CPE Score | C |
| Minimum CAE Score | B |
| Duolingo | 140 |
| PTE Academic | 76 |
Additional Admission Requirements
Number of Recommendation(s)
Other Requirements
Include instructors' names along with list of courses taken
Statement of Interest
Sample of your written work
PhD: resumé or CV required