Mathematics & Statistics
York offers an MA, an MSc and a PhD in Mathematics & Statistics. In addition, we have a part-time MA program in Mathematics for Teachers, open to teachers interested in upgrading their mathematical skills and experience.
Our programs are dedicated to the exploration and development of new ideas in mathematics and statistics, and to fostering an understanding, appreciation and utility of those ideas.
Mathematics & Statistics (PhD)
Our researchers provide a tailored program for students completing their doctorates. Applicants choose to work with a supervisor in an area of pure math, applied math or statistics.
Mathematics & Statistics (MA)
Our one-year MA program consists of a set of core courses based on an area of specialization in pure math, applied math, probability, statistics or applied statistics. Students also complete additional elective courses, as well as a survey paper and courses or a thesis.
Applied & Industrial Mathematics (MSc)
Industrial and applied mathematics play an essential role in the development of new and innovative technologies. York's dynamic program will train students to apply their skills to the solution of real-life problems in industry, finance, disease modelling, research laboratories and universities.
The degree has been designed as a two-year program, with students taking a set of core courses as well as participating in a practicum. In the practicum, students will model physical problems that involve interpretations of experimental data, the mathematical formulation of problems, analyses of these mathematical problems and interpretations of the results.
The program will culminate in a thesis.
Also Consider: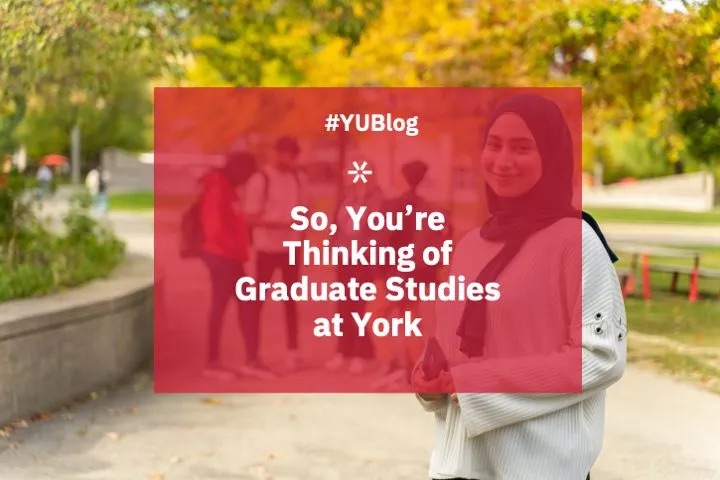 If you want to pursue graduate studies, it's time to start planning and getting all your ducks in a row!
Degrees Offered
---
MSc (Applied & Industrial)
---
Program Length (Full-time)
6 term(s)
---
Fall Entry
Deadline - Fall (All Applicants)
2024-01-15
English Proficiency Requirement
| | |
| --- | --- |
| Minimum TOEFL (Paper-based) | 550 |
| Minimum TOEFL (Internet-based) | 79-80 |
| IELTS (Academic Module) | 6.5 |
| YUELI | Academic Program Level 9 with Pass |
| YUELI Graduate Studies Preparation Program (GSPP) | Graduate with Pass |
| CAEL | Overall score of 60, no component score less than 60 |
| Minimum CPE Score | C1 |
| Minimum CAE Score | C |
| Duolingo | 120 |
| PTE Academic | 60 |
---
MA
---
Program Length (Full-time)
3 term(s)
---
Program Component(s)
Thesis
OR Survey paper
OR Course work only
---
Fall Entry
Deadline - Fall (All Applicants)
2024-01-15
English Proficiency Requirement
| | |
| --- | --- |
| Minimum TOEFL (Paper-based) | 550 |
| Minimum TOEFL (Internet-based) | 79-80 |
| IELTS (Academic Module) | 6.5 |
| YUELI | Academic Program Level 9 with Pass |
| YUELI Graduate Studies Preparation Program (GSPP) | Graduate with Pass |
| CAEL | Overall score of 60, no component score less than 60 |
| Minimum CPE Score | C1 |
| Minimum CAE Score | C |
| Duolingo | 120 |
| PTE Academic | 60 |
---
PhD
---
Program Length (Full-time)
12 term(s)
---
Program Component(s)
Comprehensive examination(s)
AND Dissertation
---
Fall Entry
Deadline - Fall (All Applicants)
2024-01-15
English Proficiency Requirement
| | |
| --- | --- |
| Minimum TOEFL (Paper-based) | 550 |
| Minimum TOEFL (Internet-based) | 79-80 |
| IELTS (Academic Module) | 6.5 |
| YUELI | Academic Program Level 9 with Pass |
| YUELI Graduate Studies Preparation Program (GSPP) | Graduate with Pass |
| CAEL | Overall score of 60, no component score less than 60 |
| Minimum CPE Score | C1 |
| Minimum CAE Score | C |
| Duolingo | 120 |
| PTE Academic | 60 |
Additional Admission Requirements
Required Forms
When you apply for the MA, MSc and PhD program, please include the following forms:
Number of Recommendation(s)
(PhD) 3 recommendation(s)
(MA) 2 recommendation(s)
Other Requirements
Statement of interest
Resumé or CV