Gender, Feminist & Women's Studies
The program focus is on feminist perspectives on women and gender as they intersect with sexualities, race, ethnicity, class, ability and age. It encourages research projects that encompass more than one area.
The program is interdisciplinary – drawing widely from the humanities, social sciences, environmental studies, fine arts, education and law – sensitive to diversity and universal in approach to both Canadian and global issues.
More than 100 feminist scholars are associated with the Centre for Feminist Research, which invites students and internationally renowned researchers from more than 30 countries to special lectures, conferences and to collaborate on research.
Housed at York, the Nellie Langford Rowell Library is Canada's most comprehensive library dedicated to women's studies resources, with more than 7,000 books, 200 current periodicals and the quarterly feminist journal, Canadian Woman Studies/Les cahiers de la femme.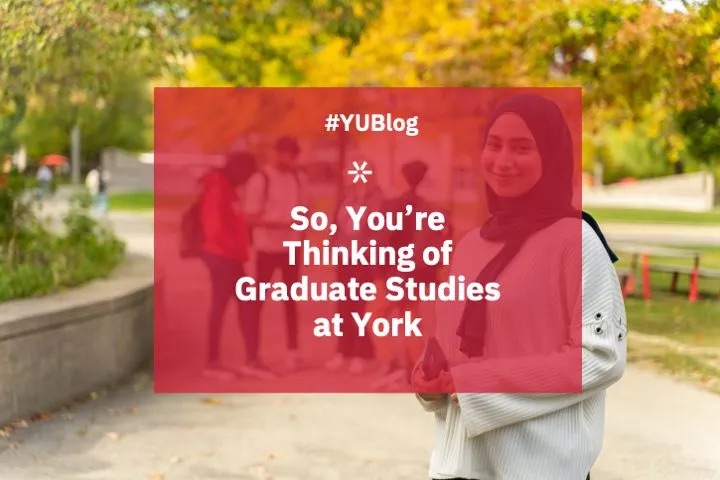 If you want to pursue graduate studies, it's time to start planning and getting all your ducks in a row!
Degrees Offered
---
MA
---
Program Component(s)
Major research paper
OR Thesis
---
Fall Entry
Deadline - Fall (All Applicants)
2024-01-15
English Proficiency Requirement
| | |
| --- | --- |
| Minimum TOEFL (Paper-based) | 600 |
| Minimum TOEFL (Internet-based) | 100 |
| IELTS (Academic Module) | 7.5 |
| YUELI | Academic Program Level 9 with Distinction |
| YUELI Graduate Studies Preparation Program (GSPP) | Graduate with distinction |
| CAEL | Overall score of 70, no component score less than 60 |
| Minimum CPE Score | C |
| Minimum CAE Score | B |
| Duolingo | 140 |
| PTE Academic | 76 |
---
PhD
---
Program Component(s)
Comprehensive examination(s)
AND Dissertation
---
Fall Entry
Deadline - Fall (All Applicants)
2024-01-15
English Proficiency Requirement
| | |
| --- | --- |
| Minimum TOEFL (Paper-based) | 600 |
| Minimum TOEFL (Internet-based) | 100 |
| IELTS (Academic Module) | 7.5 |
| YUELI | Academic Program Level 9 with Distinction |
| YUELI Graduate Studies Preparation Program (GSPP) | Graduate with distinction |
| CAEL | Overall score of 70, no component score less than 60 |
| Minimum CPE Score | C |
| Minimum CAE Score | B |
| Duolingo | 140 |
| PTE Academic | 76 |
Additional Admission Requirements
Number of Recommendation(s)
Other Requirements
Resumé or CV
Statement of intent (max. 1,000 words)
Sample of academic writing