Black Excellence at York University (BE YU)
Join us for a month of virtual events to engage, inform and support Black students on their path to university study.
BE Supported. BE Visible. BE Celebrated. BE YU.
Black Excellence at York University (BE YU) provides Black students with the supports they need to transition to university and maximize their student experience on the path to graduation. Through workshops, specialized events, mentoring, academic advising and more, BE YU is designed to champion the academic, professional and personal success of York's Black student community.
Throughout February, join Black students, Faculty and representatives from York's Student Recruitment & Admissions team to learn about supports to help you successfully transition to university and thrive as you work toward your goals. Register for your choice of sessions below.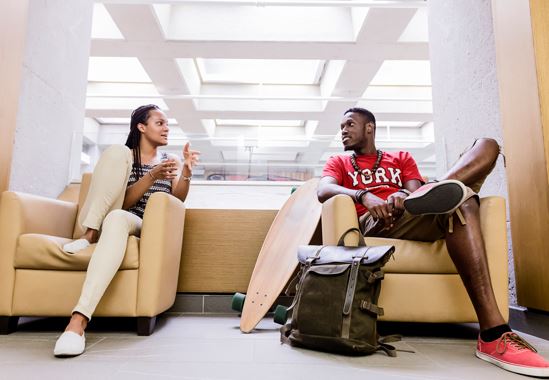 Available Sessions
---
February 3
BE YU at York: Kick-Off Event
6:00 p.m. - 7:00 p.m. EST
Throughout February, York University is hosting a series of sessions highlighting resources, supports and opportunities available for Black students. At this kick-off event you will learn more about Black Excellence at York University (BE YU), hear from mentors and current participants, and gain an overview of the events happening throughout the month.
Presenters: Keshia Gray, Associate Registrar and Director, Student Recruitment & Admissions; Juanita Muwanga, International Recruitment Officer; Emmanuella Sowah, BE YU Mentor; Shonnae Frazer, BE YU Mentor; Kobe Cargill, BE YU Mentor; Hiba Yassin, BE YU Student; Awwal Abass, BE YU Student
---
February 8
Financing Your Post-Secondary Studies
6:00 p.m. - 7:00 p.m. EST
Planning your finances is one of the biggest stressors for university students. In this session we will provide an overview of the financial supports available to students at York University. Topics will include estimated expenses, OSAP, Scholarships, Awards and Bursaries, the Work Study Program and your York Student Account
Presenters: Karen Warner, Manager, Scholarships & Financial Aid
---
February 10
Celebrating Black Excellence at Schulich: Scholarship Opportunities
12:00 - 1:00 p.m. EST
Uncover the potential of an undergraduate degree at the Schulich School of Business and the available opportunities for financial support, mentoring and networking within the BBA/iBBA program.
Presenters: Michelle Machado, Director, Strategic Policy & Planning and Akansha Jakhar, Recruitment and Communications Coordinator
---
February 17
BE YU: Reinventing Education for a Changing World
3:30 p.m. - 4:00 p.m. EST
Join the Faculty of Education session on Experiential Education as we share with you the opportunities for learning placements within the community, related organizations or In-School classroom placements as part of the Bachelor of Arts (BA Educational Studies) or the Bachelor of Education (BEd) teaching certification program. As a student in either program, you'll develop workplace-specific skills and enhance your professional networks – all while completing your degree. Hear from the Faculty of Education professors and students.
Presenter: Marc Powell, Student & Academic Services Coordinator
---
February 22
Life at Lassonde: BE YU
12:00 p.m. - 1:00 p.m. EST
Explore. Connect. Discover. Explore our programs and admission next steps. Connect with Black students at Lassonde to learn about their passions and experiences. Discover the community and support services.
Presenters: Katrina Angel, Admissions Analyst; Mudita Kundra, Student Recruitment Officer
Missed the session?
Visit Explore Lassonde to view a recorded presentation from the Lassonde recruitment & admissions team.
Tune into Lassonde Replay for a playlist of recent sessions and events.
Don't miss Episode 3 from "This is Lassonde Podcast" featuring current student Gbemisola, '23 Computer Science.
---
February 23
BE YU in Liberal Arts & Professional Studies
4:00 p.m. - 5:00 p.m. EST
Join us and find out about how LA&PS supports, celebrates and honours Black students via student life, student services, scholarships/bursaries and academics. Our Associate Dean, Students, Dr. Michele Johnson will be leading a panel that includes current students, staff and alumni.
Presenters: Dr. Michele Johnson, Associate Dean, Students; Sasha Smith LA&PS Graduate and Digital Strategist, LA&PS Communications & Marketing Department; Karlene Case, Graduate and Manager, Student Engagement, LA&PS Colleges; Emmanuella Owasu, BCom in Information Technology student, Inaugural recipient of Melissa Grelo Entrance Award for Black and Indigenous Excellence; Tawfic Mumuni Amandi, LA&PS graduate, Human Rights & Equity Studies, Law student, University of Ottawa.
---
February 24
Amplifying Black Excellence at AMPD
6:00 p.m. - 7:00 p.m. EST
Black artists are continually at the forefront of arts innovation but often the least supported in finding, sharing and celebrating success. In the faculty of the Arts, Media & Performance Design (AMPD), we are committed to fostering Black students' academic and personal journey to becoming an Artist. Please join us for a virtual session to learn about AMPD specific supports designed to set you up for unlimited success, featuring the experiences and perspectives of Black AMPD alumni, faculty, and students.
Presenters: Jason Merai, Director of Student and Community Engagement; Karen Burke, Interim Chair of Music Department & Faculty; Natalia Morales, 3rd year Film Production Student
---
February 24
BE YU at York Science
6:00 p.m. - 7:00 p.m. EST
Discover why York Science is the right fit for you. This session will feature an overview of Science at York, our science program options, the various opportunities we offer outside the classroom, and our specialized student support. Afterwards, you will have the opportunity to hear from some of our current Black students about their experiences as York Science students.
Presenters: Felicia Mercier, Science Recruitment Coordinator and Hannah Stanley, Communications Coordinator
---
February 25
Black Students Mentorship Program:
A Student-Led Initiative in the Faculty of Health
5:00 p.m. - 6:00 p.m. EST
The Black Students Mentorship program (BSMP) in collaboration with the Black Students in Psychology (BSIP) supports and encourages black voices, success, and excellence, through mentorship, programming, and partnerships. Join us to learn more about this program and hear from Black students in the Faculty of Health as they share their experiences.
Presenters: Panelists from the Black Students Mentorship program in collaboration with Black Students in Psychology
---
February 28
BE YU: Become a Changemaker with EUC
4:00 p.m. - 4:30 p.m. EST
York University's new Faculty of Environmental and Urban Change (EUC) has been created as a call to action to respond to the most pressing challenges facing people and the planet. Explore how our new programs will empower you to become a changemaker for a just and sustainable future. Learn about Black excellence in EUC and how our students, alumni and professors are making positive change now.
Presenters: Rohini Chaba, Recruitment & Liaison Officer and Lily Piccone, Strategic Enrolment & Communications Officer
---
February 28
Black Excellence at Glendon | L'Excellence Noire à Glendon
5:00 p.m. - 6:00 p.m.
York University's Glendon campus invites you to hear success stories and great tips from a panel of 3 alumni. Questions about choosing a University that is the right fit for you; support available on campus for an easier transition; and contributing to your community as a path to career success. | Le campus de Glendon de l'Université York vous invite à écouter des histoires de réussite et des conseils d'un panel de trois diplômés. Questions sur le choix d'une université qui est parfaite pour vous; le soutien offert sur le campus pour faciliter la transition vers l'université; et contribuer à votre communauté comme voie vers la réussite professionnelle.
Presenters: Yerro Gassama, Student Life Coordinator, Office of Student Affairs; Ryan Ndombasi, iBA '21, History; Jenny Matingu, iBA '17, International Studies; Kevin Bourne, BA '07, Political Science