English & Professional Writing
Liberal Arts & Professional Studies
About English & Professional Writing
English & Professional Writing is a single degree program blending both fields of study: English keeps open the possibility of graduate work in English, while Professional Writing gives students the practical skills for professional writing work.
The only dual qualification program of its kind in Canada.
This degree option provides a great range of practical skills in addition to theoretical and critical scholarship. Our courses bring the community into the classroom through various practical activities, such as writing web content, podcasting, editing and publishing materials and working with community organizations.
What you'll learn
---
Professional writing techniques
Introduction to literary study and literary criticism
Digital writing
Editing & publishing
Hands-on experiences
---
Book and Bookmaking
Digital Authoring
Periodical Publishing and Writing
Organizational/Business Writing
Questions?
Contact us at goyork@yorku.ca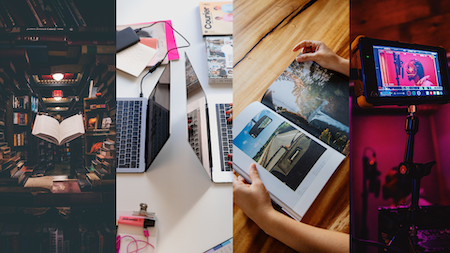 Do you love literature, writing and creating digital content? The English & Professional Writing (ENPR) program is perfect for you!
Program Details
---
Offered by
Liberal Arts & Professional Studies
---
Ways to study
Full-Time, Part-Time
---
Experiential Education
Co-op or internship
---
Fall entry
Yes (first and upper year)
---
Winter entry
Yes (first and upper year)
---
Summer entry
Yes (first and upper year)